Bold New Works take Viewers on Wild Ride; THE WILD ONES runs July 10-Aug. 16; Reception July 10, 5 pm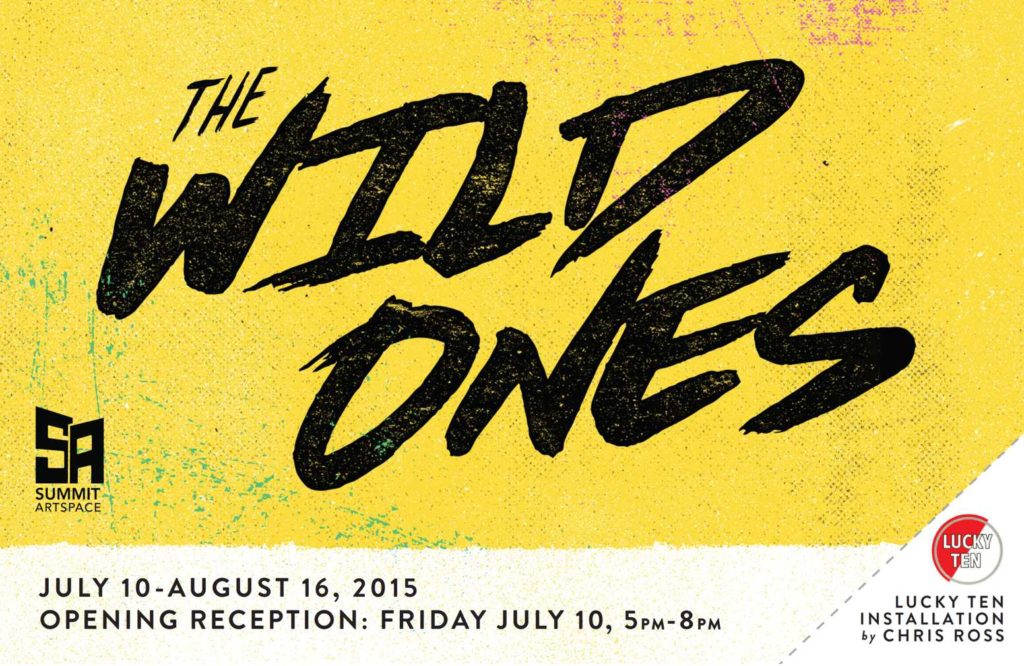 Take a walk on the wild side and experience a world of vibrant imagination, where art celebrates individuality through the eyes of Akron's most exciting contemporary artists. This stunning exhibition opens at Summit Artspace Gallery on Friday, July 10, 2015 from 5-8pm and on view through Aug. 16, 2015.
THE WILD ONES brings together strong and unique contemporary works exploring rebellion and its impact on American culture.
The images invite the viewer on a journey to appreciate the icons, attitudes and personalities associated with the free spirits, forward thinkers and creative movers and shakers from American culture. Exquisite oil paintings, colorful pop-art inspired drawings and meticulous craftsmanship encompass this compelling exhibition.
"The featured works are dynamic and pull you right into the subject matters with every detail," said Curator and Gallery Director Rob Lehr. "From large canvases modeled after found photographs of forgotten soldiers to small collages dedicated to the women's suffrage movement, we are allowed into this brave world of the underdog depicted as provocative works of fine art."
With over 20 participating artists such as college professors, illustrators, graffiti artists, graphic designers and tattoo artists, each shares his or her personal connection to the evolution of forward thinkers and those who have brilliantly been ahead of the curve in both style and content.
Summit Artspace is excited to announce a special installation of Chris Ross' Lucky Ten Series within THE WILD ONES exhibition. This lively series creates social commentary on advertising, graffiti and popular culture. The body of work has taken over four years to complete with more than 100 unique works on display. You have to see it to believe!
According to Chris Ross, "The Lucky Ten Series is a snapshot of the pursuit to acquire the unobtainable that only a few ever do. It's the chance of achieving wealth, recognition and privilege. Desired by many it is the driving force behind the American Dream that defines and consumes the culture that surrounds us. By infiltrating these scenes Lucky Ten captivates and terrifies. It promises and it destroys."
Come to the FREE opening reception July 10, 5-8 pm in the Summit Artspace Gallery, located on the first floor of Summit Artspace, 140 E. Market St. Akron. Click
here
for directions. The show runs July 10 to Aug. 16. The gallery is open Saturday and Sunday, 11 am-4 pm. It is handicap accessible and there is a wheelchair available. Free parking is located behind building.
summitartspace.org
THE WILD ONES
at Summit Artspace Gallery
July 10-August 16, 2015
Contemporary works exploring rebellion and its impact on American culture.
Opening Reception
Friday, July 10, 5-8 pm
Gallery Hours:
Artwalk
Saturday, August 1, 5-9 pm
More ways to resist…
PROOF OF THE WILD TOUR
at Akron Art Museum: Saturday, August 8, 4 pm, FREE The Akron Art Museum is presenting a special tour of their own Wild Ones: the skeletons in the closet, the black sheep in the family, the rebels without a cause. Take a tour of the galleries, highlighting the groundbreaking and controversial artists, subjects and themes that make art so exciting. The museum is located at
One South High St., Akron, 44308.
akronartmuseum.org
NO COMPLY:
The Art of Skateboard Culture at Square Records, Friday, July 17, 6-9 pm, FREE In conjunction with the Wild Ones, Square Records will feature artwork inspired by skateboarding culture from participating artists Phil Guy, Jesse Strother and Charlie Wagers. Square Records is located at 824 W Market St, Akron 44303.
squarerecordsakron.com
NEW WORKSHOP
RESIST
: Exploring Texture at Summit Artspace, Saturday, July 25, 1 pm, FREE This workshop is an introduction to using resist printing techniques which can be used to create a wide variety of textures. This class is free, kid-friendly and open to the public. Jennifer Davis of smART Studio is the instructor for this exciting workshop. Limited to 20 students. Online registration is required. Register
here
.