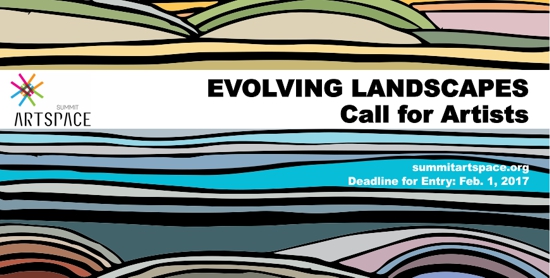 CALL FOR ARTISTS
EVOLVING LANDSCAPES
SUBMISSION DEADLINE: Feb. 1, 2017
Submit your cutting edge landscapes for Summit Artspace's EVOLVING LANDSCAPES Art Exhibition. Submission deadline is Feb. 1, 2017

Show dates: March 3 – April 8, 2017

What is "landscape," and how can it be expressed through visual art? A diverse representation of landscape art from both traditional and contemporary perspectives, and a variety of media, will be showcased in this juried exhibition. We encourage abstract, representational and alternative interpretations of all "scapes," such as sea, land, sky, urban, etc. Accepted work will demonstrate a high level of skill in the artist's chosen 2D or 3D media and creative thinking in the interpretation of "Evolving Landscapes."

Juror: Alexandra Nicholis Coon, Executive Director – Massillon Museum.
Jurying will be done via digital image. Here is the link to the submission site:
https://summitartspace.submittable.com/submit/73928/evolving-landscapes
Notification of the juror's decision will be made via email by February 15, 2017. Accepted work must be delivered to Summit Artspace Thursday, February 23, 2017, between 3 pm and 7 pm or Saturday, February 25, 2017, between 9 am and noon.
Artwork Pick Up Date: April 10-11, 2017 (times TBD)
ENTRY FEE: $15