Dreama Whitfield and Traci Buckner
Dreama and Traci began their careers as urban public school educators. The circumstances of downsizing, school mergers and layoffs forced Dreama and Traci to work together at underperforming middle school. Dreama and Traci's offices were located on a stage and converted into two small windowless offices.  Dreama served as the school counselor and Traci served as the assistant principal.  After rumors, innuendo and conjecture, the two realized they had more in common than not.   The common ground birthed a strong working relationship that birthed student success, community engagement and a million dollar grant from the Knight Foundation. From there, the friendship grew into a sisterhood.  Birth of babies, breakups with boyfriends, marriages, miscarriages, family vacations and promotions.
The hard work landed Dreama and Traci positons at a startup public STEM school.  Dreama was the founding school counselor and Traci was the founding school principal. A part of the school's curriculum is entrepreneurship and all founding staff members took a 6-week course, The Entrepreneurial Mindset.  The school was highly successful and featured on CNN and in Newsweek.   The success drew influential entrepreneurs, innovators and artists to the school. There was even a visit from a representative from the Bill Gates Foundation.
The experience and the exposure to the innovators ignited the dream of starting a business in Dreama and Traci. A business for women by women.  A business were diverse groups of women come together, discover common ground and possibly create a new network of friends. Then came the questions why, what, how, when?  It came to light!  Traci was speaking to a group of successful female community leaders. Yes, they said, we want to set goals in a creative environment. The spark was lit.  Literally, the next day, there was an ad in the newspaper announcing the Knight Arts Akron Challenge Akron.  Long nights on the phone. Saturdays and Sundays at Starbucks crafting an idea.
Dreama and Traci won the Knight Arts Challenge Akron. DTVision, Dream The Vision, dreamUP Project was born! D and T are the first initials of Dreama and Traci's names. DT also stands for Dream The. DTVision was born because two women had a dream. Their dream led them from a stage converted into small offices to being celebrated on the largest stage in their city. DTVision dreamUP Project celebrates women in a warm, fun experience that uses words, music and a licensed therapist to help women set goals. Local female artists will assist women with creating a one of a kind three-dimensional piece of art. Women will create the art with their own hands. The pieces of art will show the women's goals. The art pieces will be displayed in a local art show.
Karen Starr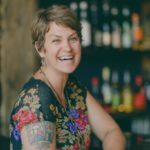 Karen Starr is an interior designer, business owner, visual artist, singer, author, and community dreamer.
She is co-owner of Akron's Hazel Tree Interiors, an interior design and picture framing studio, with a showroom featuring home décor furnishings, art, accessories, and lighting made by Northeast Ohio makers. Since 2007, Karen has featured local makers and artists in her designs, weaving their custom work alongside the locally-sourced and eco-smart materials she incorporates into projects.
Karen loves to co-create experiences, events, and networks that celebrate life in Akron and that bring people together around common passions.  She is the co-founder of Akron Craft + Social Club, that creates craft parties with a purpose: To learn new artful skills, have fun, and give back to local charities with money raised at the events. She is also co-founder GAINS, The Greater Akron Innovation Network for Sustainability, a volunteer-based network that holds monthly gatherings to spark community ideas and further best practices in the realm of sustainable products or practices. In 2011, Karen co-founded Free Outdoor Movie Night in Glendale Cemetery, which later blossomed into Free Akron Outdoor Movies. She co-founded and continues to help organize the Highland Square PorchRokr Festival with Highland Square Neighborhood Association.
Karen is a singer with local rock and roll bands, Roxxymoron and The Fourons.  She co-authored the book, 'A is for Akron, an A to Z list of Akron's places and things that make us smile', and her second book, If This Wallpaper Could Talk, is in the works. Karen lives in West Hill with her husband, Jon, daughter, Claire, and two crazy pets.
Christy Bolingbroke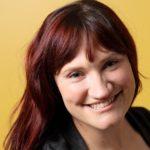 As the Founding Executive/Artistic Director for the National Center for Choreography at the University of Akron (NCCAkron), Christy Bolingbroke is responsible for setting the curatorial vision and sustainable business model to foster research and development in dance.  Previously, she served as the Deputy Director for Advancement at ODC in San Francisco, overseeing curation and performance programming as well as marketing and development organization-wide. ODC programming was recognized for Ms. Bolingbroke's curatorial choices showcasing quality and aesthetic diversity from the emerging to mid-career artists with a variety of entry points for audiences. A key aspect of her position included managing a unique three-year artist in residence program for dance artists; guiding and advising them in all aspects of creative development and administration.
Prior to ODC, she was the Director of Marketing at the Mark Morris Dance Group in Brooklyn where her achievements included increasing ticket sales in tour markets worldwide and activating Access/MMDG events in such major hub cities as Seattle, Houston, Boston, New York, and Berkeley.
Ms. Bolingbroke earned a B.A. in Dance from the University of California, Los Angeles, is a graduate of the Arts Management Fellowship program at the Kennedy Center for the Performing Arts, and a Masters in Performance Curation at Wesleyan University. She is a former Board President of the Dance Resource Center of Greater Los Angeles, a founding member of Emerging Leaders for New York Arts, a retired board member of California Presenters, and a consulting advisor for the Bloomberg Philanthropies Arts Innovation Management initiative.
April Couch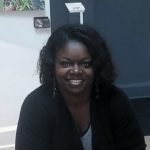 As a graduate from Baldwin Wallace with a BA in Business Administration and Management, I spent most of my career in banking at FirstMerit Bank.  My career in banking spanned 17 years before I decided to stay home to raise my three children.  After my children were all in school, I started working as a substitute teacher.    If someone had told me even two years ago that I would someday be considered an artist, I would have thought it quite funny.
I am a self-taught Zentangle inspired artist.  A Zentangle is a complicated drawing that is built one line at a time. Simple tangles, or patterns, are combined in an unplanned way that grow and change in unbelievable and amazing ways.  Every piece, whether on wood, metal, stones, ceramics, the beach or paper, are unbelievably detailed, unique and amazing works of art.  What I love the most about this art form is that there are absolutely no creative limits or boundaries.  Anything is possible one line at a time!
Seriously pursuing my art started a little more than three years ago.  During that time, it has been an honor to receive the following awards :  the 2015 Akron Art Prize, Artist Choice and 5th Runner Up, 2nd Place Best of Show for Art-a-palooza (2015), The People's Choice award at the Mantua Art Festival (2016) and a honorable mention at Chriskindl Market (2015, 2016) and the Tremont Arts and Cultural Festival (2015).  It was a great an awesome experience and honor to be chosen as the button artist for the 2017 First Night Akron celebration.
Lisa Drumm and Jim Aufderhaar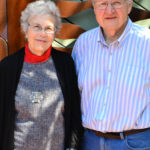 Lisa Drumm was born in Erie, Pennsylvania to Catharine Plavcan, artist and art critic for the Erie Times New, and Joseph Plavcan, renowned painter and art teacher. After receiving a Bachelor's of Fine Arts Degree from Ohio Wesleyan University, Lisa came to the Akron area to teach art. She taught art at Rankin Elementary, Perkins Middle School, Butchel High School, Akron's Creative Learning Center, Old Trail School, and assorted classes at the University of Akron, Penland School of Crafts and others.
An artist in her own right known for creating soft sculpture dolls, Lisa manages the entire operation of Don Drumm Studios & Gallery. She has won several awards for the Gallery, including the Rainmakers Award for achievement in business from Northeast Ohio Live Magazine, the Creative Woman of the Year from Women's History Project, numerous Zenith awards and other top gallery awards from Fox 8 News, the Akron Beacon Journal, and Niche Magazine (including two Top Ten Galleries in America awards).
Morgan Lasher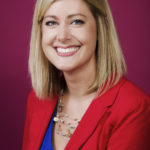 After graduating from Ohio University where she served as student body president, Morgan Lasher accepted a position as a consultant with the Monitor Group (now Monitor Deloitte) in its Cambridge, MA offices. She collaborated on international teams to create corporate management and marketing communications strategies for top global companies, from pharmaceutical companies launching new drugs to a top home and beauty retailer identifying and quantitatively segmenting its target markets.
After four years, she joined the ranks of Cleveland-based publication Mimi Magazine, with a mission to support local business diversity. As the Director of Strategy and Marketing, Morgan leads teams of marketing strategists and content marketers, and together they have grown the business in revenue and reach year-over-year since Morgan joined in 2010.
A raving fan of Akron, Morgan sits on the board of the Boys & Girls Clubs of Western Reserve, ATHENA Akron Chapter, and Torchbearers. With her husband Matt and almost two-year-old son Anderson, Morgan lives in West Akron where they are restoring an old, but could-be-beautiful home.
Chris Horne
Kat Pestian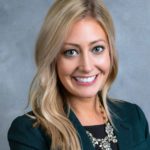 Kat is a public relations, communications, and branding professional with
almost ten years of experience developing and executing campaigns to
increase media exposure and support strategic marketing initiatives. Kat
specializes in writing and creating a variety of messages—with a positive
and cohesive voice.
Kat earned a B.A. in Organizational Communications and a minor in
Public Relations from Ohio University. She spent the first part of her
career at non-profits including, One of A Kind Pet Rescue and the Akron-
Canton Regional Foodbank.
Passionate about helping individuals and companies tell their own
authentic brand stories, in 2017, Kat devoted her full-time
work to pursuing entrepreneurship and is now Partner at Amp Strategy.
Kat is involved in various community organizations including: ArtCetera,
Torchbearers, Association of Fundraising Professionals, Access Jewelry
Committee, Heart-to-Heart Marketing Committee, R.E.S.O.L.V.E, Ohio
University Alumni Association, and Delta Gamma Alumni Association.
Kat lives in West Akron with her husband Tim, one-year-old son Tre, and
their rescue fur babies, Louis and Layla.
Keeven White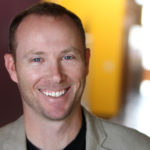 As WhiteSpace president and founder, Keeven White wears many hats – including a hard hat. That's right, he's been tenaciously restoring our new home, an expansive 1893 fixer-upper that he worked to get on the National Register of Historic Places (which makes Keeven about as hands-on as they come). Raised in a family that owned and operated a printing company, Keeven founded WhiteSpace in his spare bedroom and has instilled that small-business passion and work ethic in every aspect of WhiteSpace. When he's not operating power tools, Keeven is responsible for creating the WhiteSpace vision and communicating the overall direction to our clients and the community. He is an approachable and involved leader who remains active in terms of creative inspiration, client strategy and core business relationships.
With more than 25 years of experience in brand building, Keeven willingly shares his expertise through round-table discussions and speaker engagements for both students and professionals. Passionate about giving back, he currently serves on several boards, including Direction Home, Boys & Girls Club of the Western Reserve and Downtown Akron Partnership. In addition to his board service, Keeven graduated from Leadership Akron Class 31where he gained valuable exposure to the inner workings of the community. He has continued his involvement by working with small committees to plan Entrepreneurship Day and the Civic Solutions Lab. Keeven also has been helping develop a strong entrepreneurial community in Greater Akron by partnering with area organizations like the Fund for Our Economic Future, JumpStart, The City of Akron and Launch League.
Roza Maille
Roza Maille is an artist and arts administrator living in Akron, Ohio.  She earned her BFA in Jewelry/Metals/Enameling from Kent State University in 2006 and her MA in Arts Administration from The University of Akron in 2013. Since then, Roza has also held a variety of positions at local art organizations, including the Akron Art Museum, the BOX Gallery, and the board at Crafty Mart.  In her spare time, she enjoys making jewelry, curating art shows, visiting museums and galleries, and traveling.
Shane Wynn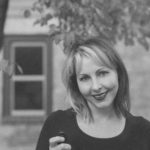 Shane Wynn is a Fine Arts photographer specializing in portraiture and a local enthusiast contributing photography regularly to ten Akron/Cleveland publications. She graduated from the University of Akron in 1999 with a BFA in photography. Most recently she was selected as a 2016 Akron Art Prize Winner for the curated selection. She is a Knight Arts Challenge winner for the 2015 and 2016 competition for her photography series #overlooked and a book project co-authored by Karen Starr entitled If This Wallpaper Could Talk, to be completed next year.
Pam Wright
Todd Winter