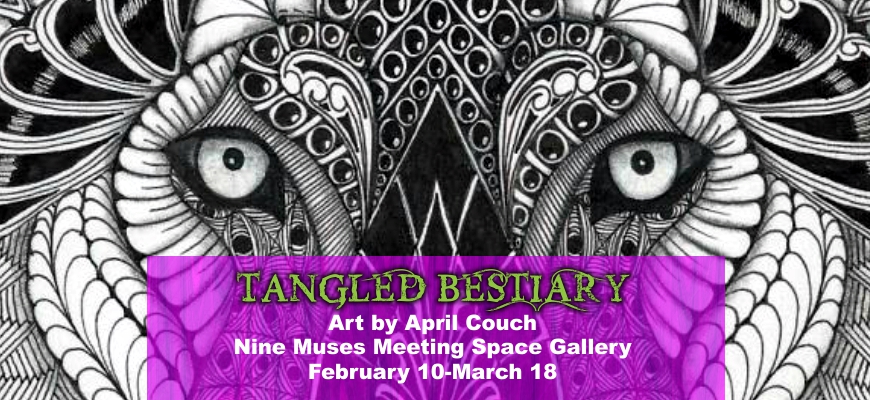 FANTASTIC BEASTS FROM APRIL COUCH'S IMAGINATION
WILL INHABIT NINE MUSES ART GALLERY IN BARBERTON
Art by Barberton home-schooled students also on display
TANGLED BESTIARY runs Feb. 10 to March 18, 2017
FAVORITE COLOR runs Feb. 10 to April 22, 2017
OPENING RECEPTION ~ Friday, Feb. 10, 5-8 pm
Free and open to the public
BARBERTON, OH—Lions and owls and wolves, all tangled lines and patterns, will take up residence at Nine Muses Art Gallery in the newest exhibit set to open Feb. 10.
Artist April Couch will display her drawings of real and imagined animals in this one-person show entitled "TANGLED BESTIARY," which can be viewed in the intimate Meeting Space Gallery. The opening will be celebrated with a reception from 5-8 p.m., free and open to the public.
Creator of the 2016 First Night Akron pin, Couch maintains a studio on the third floor of Summit Artspace in Akron. She just opened an Art Bar in the studio, where visitors can sit, color and converse with her about art. She is a self-taught Zentangle-inspired artist.
During the two years that she has been seriously pursuing her art career, she has won several awards, including the 2016 Akron Art Prize – Artist Choice and Fifth Runner Up. With a degree in business administration and management, a career in banking, and a second career as a stay-at-home mom, Couch reflects that "if someone had told me even two years ago that I would someday be considered an artist, I would have thought it quite funny."
Zentangle is currently a phenomenally popular art form, which Couch has adapted to bring her creatures to "life" on a variety of surfaces.
"A Zentangle is a complicated drawing that is built one line at a time. Simple tangles, or patterns, are combined in an unplanned way that grow and change in unbelievable and amazing ways," she explains. "Every piece, whether on wood, metal, ceramics or paper, are unbelievably detailed, unique and amazing works of art. What I love about this art form is that there are absolutely no limits or boundaries on what you can create. Anything is possible one line at a time!"
Also on exhibition, and opening Feb. 10, is FAVORITE COLOR, a body of work by the homeschool students of Miriam Daniel, who is a resident artist at Barberton's Art Center on Tuscarawas. These works will be on view in the "local alcove" at Nine Muses.
TANGLED BESTIARY runs until March 18 while FAVORITE COLOR ends April 22. Nine Muses and Art Center on Tuscarawas are operated by Summit Artspace.
The exhibitions are free and open to the public. Nine Muses Gallery hours are Mondays, 7 a.m.-4 p.m.; Tuesdays, Wednesdays and Fridays, 7 a.m.-8 p.m.; Thursdays, 7 a.m.-9 p.m.; Saturdays, 8 a.m.-8 p.m. The gallery is open for Barberton Fourth Friday, which is coming up on Feb. 24, 5-8 p.m.
For more information call 330-376-8480. Find Nine Muses, the Art Center on Tuscarawas and Summit Artspace on Facebook. Summit Artspace is on Twitter at @AkronAreaArts and on Snapchat.
Nine Muses is located at 584 Tuscarawas Avenue in Barberton, Ohio, and is operated by Summit Artspace. Click here for a map.
SUMMIT ARTSPACE IS SUPPORTED BY: