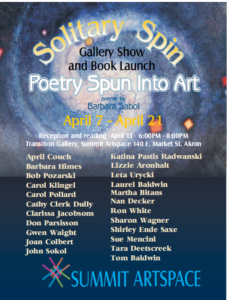 SOLITARY SPIN
April 7 – April 21, 2018
Transition Gallery
Summit Artspace on East Market
140 E. Market St., Akron, Ohio
All events free and open to the public.
RECEPTION
Friday, April 13, 6-8 pm
READING
Friday, April 13, 7 pm
GALLERY HOURS
April 7, 5-9 pm
April 13, 6-8 pm
April 14, noon-5 pm
April 19-20, noon-7 pm
April 21, noon-5 pm
Twenty-three local artists have created artworks based on the new poetry book, Solitary Spin by Barbara Sabol. This show will be a combination of a gallery show of artworks and book launch for a new poetry book publication. Solitary Spin runs April 7- 21 in the Transition Gallery of Summit Artspace, 140 E. Market St., Akron. The show is free and open to the public.
The exhibit represents a marriage of visual art and poetry, created by some of the most accomplished artistic talent in the area.
Come hear poet Barbara read at a reception on Friday, April 13, 7 pm, surrounded by the illustrations. Ms. Sabol and the artists welcome you to a reception, 6-8 pm, to meet and share reactions.
About Barbara Sabol
Barbara Sabol is the author of two poetry chapbooks, Original Ruse and The Distance between Blues. Her work has most recently appeared in The Examined Life: San Pedro River Review, Ekphrasis: Chrysanthemum; Modern Haiku; The Comstock Review and in a number of anthologies, including The Ides of Much, an Anthology of Ohio Poets. Barbara won the Mary Jean Irion Poetry Prize in 2014. She earned an MFA from Spalding University. Barbara is a contributor to the blog, "Poetry Matters."
Artists featured: April Couch, Katina Pastis Radwinski, Ron White, Joan Colbert, Lizzi Aronhalt, Tom Baldwin, Barbara Himes, Bob Pozarski, Carol Klingel, Carol Pollard, Cathy Clerk Dully, Clarissa Jacobsons, Gwen Waight, Don Parsisson, John Sokol, Leta Urycki, Laurel Baldwin, Martha Bitans, Nan Decker, Sharon Wagner, Shirley Ende-Saxe, Sue Mencini, Tara Deetscreek, Tom Baldwin.
Parking behind the building
Handicap accessible
Summit Artspace Location
140 East Market Street
Akron, Ohio 44308
Phone: 330-376-8480
Map
Mapquest Driving Directions – click here
SUMMIT ARTSPACE IS SUPPORTED BY: