IT'S THE NATURE OF THINGS
A Father & Son Exhibition
Jim Weckbacher, Ceramicist
James Weckbacher, Photographer
June 15 – July 7, 2017
Transition Gallery
Summit Artspace on East Market
140 E. Market St., Akron
OPENING RECEPTION
Thursday, June 15, 2017
Free and open to the public.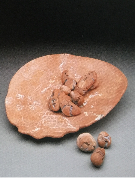 This exhibition deals with the beauty discovered in the natural deterioration of objects through the passage of time. Nature, through time, continually paints beautiful new surfaces and sculpts new forms. Father Jim Weckbacher dealing with the natural world and son James in the realm of man-made.
ARTIST STATEMENT ~ Jim Weckbacher
The ceramic work I create has it's basis in form, texture and color in the aged and weathered fragments of nature. I continually find new beauty in the broken and worn down debris I see in the natural world around me. These often overlooked pieces of leaves, stones, sticks and bones, by their obvious insignificance, seem to compel me to try to lift them from the floor of the forest or some secluded beach to the level of a gallery wall or sculpture stand.
A dried up insect-eaten leaf can become an idea for a platter form or an eroded fragment of stone inspiration for a rounded pot. I have collected these bits and pieces of nature for years, intrigued by what I see as a rough but delicate beauty etched and formed by the passage of time. My desire is to share a small portion of what I see through this exhibition.
ARTIST STATEMENT ~ James Weckbacher

For centuries, mankind has attempted to master its environment. Through invention, science and creativity, we have attempted to mold and manipulate the world in which we live, albeit in vain. Thus this massive organism called Earth continues to live, breathe and engross, if not conquer all traces of human intervention.
From architectural structures to cell phones to vehicles, these creations eventually succumb to their environment and thus transform from their original intent into a hybrid of human creation and natural order. Buildings become dilapidated monuments often engrossed by graffiti of vines and foliage. Automobiles morph into rusted skeletal shells slowly withering away in vast mechanical graveyards. However, therein lies with these transformations, caused by age and elements a thing of beauty. These artifacts are a testament of a delicate balance between man's creation and nature's influence. Nothing will escape the patience of time or the resilience of the elements.
Open hours also include the Summit Artspace Artwalk on, Saturday, July 1, when the galleries will be open from noon to 9 p.m. The Artwalk, a continuation of the free popular downtown event, will feature art talks by resident studio artists, pop-up shops and music at Summit Artspace from 5 to 9 p.m. In addition, Summit Artspace on East Market will participate in the new downtown event, 3rd THURSDAY, June 15, 5 to 9 p.m.
Parking is available behind the Summit Artspace building and in a lot between South Summit Street and Broadway when visiting the gallery. Summit Artspace is handicap accessible and has an elevator. For information about Summit Artspace, go to summitartspace.org or call 330-376-8480. Find Summit Artspace on Facebook, on Twitter @AkronAreaArts, Instagram and Snapchat.
Parking behind the building
Handicap accessible
Summit Artspace Location
140 East Market Street
Akron, Ohio 44308
Phone: 330-376-8480
Map
Mapquest Driving Directions – click here
SUMMIT ARTSPACE IS SUPPORTED BY: