FRESH 2018
JURIED ART EXHIBITON
March 2 – March 31, 2018
Summit Artspace on East Market
Main Gallery
140 E. Market St., Akron
OPENING RECEPTION
Friday, March 2, 5-8 pm
Winners announced at 7 pm
Free and open to the public.
ARTIST PANEL DISCUSSION
Thursday, March 22, 7 pm
Free and open to the public.
Reserve your seat at http://bit.ly/2BBUzlq.
What's on the minds and in the imaginations of artists creating in Summit, Portage, Cuyahoga, Medina and Stark counties will determine the essence of the 14th Annual FRESH Juried Art Exhibition opening March 2 at Summit Artspace.
The exhibit launches Friday, March 2, 5-8 pm, with a free artist reception in the main gallery of Summit Artspace on East Market, 140 E. Market St., Akron. Winners will be announced at 7 p.m.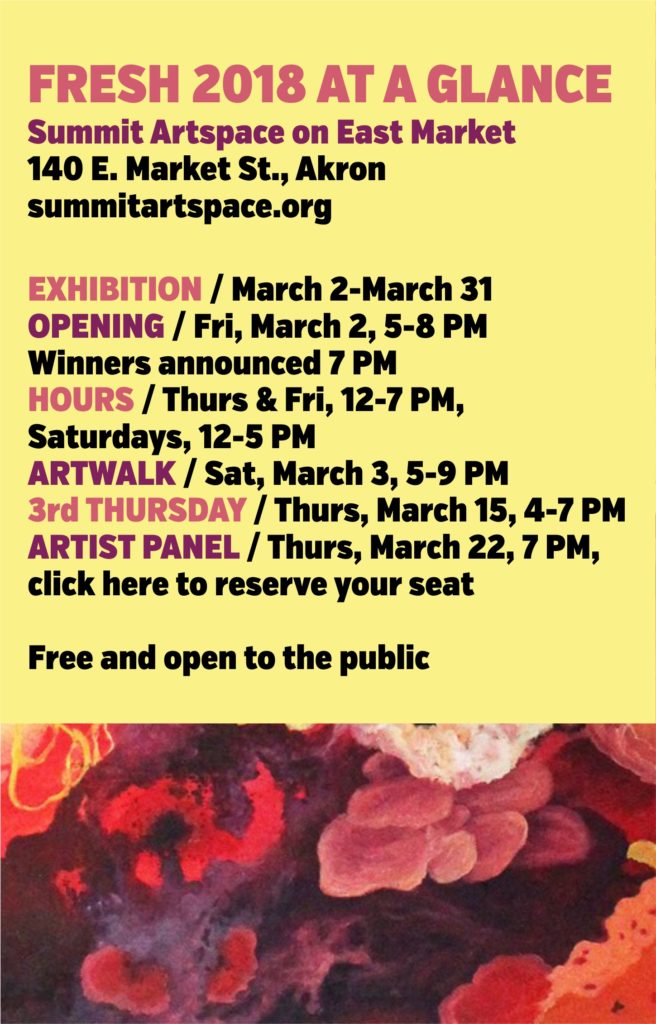 The show runs until March 31. The exhibit and events are free and open to the public.
With a reputation of celebrating new perspectives, FRESH challenges regional artists to take their art in new directions. Last year's exhibition was charged with an intense reaction by the artists to the political environment in the United States.
The first place winner was a three-dimensional installation depicting aspects of a refugee's life while other pieces communicated alarm about the environment and the state of civil discourse.
Summit Artspace Executive Director Kamelia Fisher invited last year's juror, Charles Beneke, professor of Art at The University of Akron Mary Schiller Myers School of Art, to return and see how the social climate shapes the 2018 entries.
"Art tells the story of our world on a time continuum. We will see how the passage of a year has impacted local artists," Fisher explained.
Starting with 150 submissions, Beneke saw a more introspective theme with the 35 pieces that comprise the exhibit. Artists were focused on the interaction of the elements.
"The idea of piecing things together started to become an evident thread. In many of the works there was a gathering of information, a making sense of observations, and a defining of new understandings. All the selected works somehow deal with pulling things together, in my mind, whether it is content, color, marks, materials, etc.," Beneke explained. "If FRESH 2017 was a reeling in the face of a shocking new narrative, FRESH 2018 is about artists constructing a better narrative."
Read all of Beneke's Juror's statement here.
You can hear the artists talk about their exhibition pieces during a free panel discussion led by Beneke in the main gallery on March 22 at 7 p.m. Reserve your seat here.
This year's show image is Bloom, a submission for the 2016 FRESH Juried Exhibition, by Sarah Gretsinger.
Summit Artspace's main gallery is open Thursdays and Fridays, noon to 7 p.m.; and Saturdays, noon to 5 p.m.
Additional hours are 5-9 p.m. during the March 3 Artwalk and March 15 for 3rd THURSDAY, which has a new time at Summit Artspace, 4-7 p.m.
Parking is available behind the Summit Artspace building when visiting the gallery. Summit Artspace is handicap accessible and has an elevator.
Summit Artspace is a non-profit community art center organization that provides studio, exhibit and programming spaces in Summit County and the surrounding area for
local artists and arts organizations; and is a center for art education open to all residents. Contact Summit Artspace at 330-376-8480. On the Web at www.summitartspace.org. Find us on Facebook, on Twitter @AkronAreaArts, Instagram and Snapchat.
FRESH 2018 Winners
Parking behind the building
Handicap accessible
Summit Artspace Location
140 East Market Street
Akron, Ohio 44308
Phone: 330-376-8480
Map
Mapquest Driving Directions – click here
SUMMIT ARTSPACE IS SUPPORTED BY: