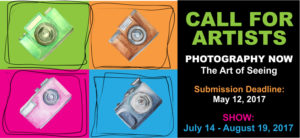 CALL FOR ARTISTS
PHOTOGRAPHY NOW
The Art of Seeing
Submit photos until midnight May 15, 2017.
Submission Criteria
Show runs July 14 – August 19, 2017
Submit photos by clicking here.
Photography – "the art or process of producing images by the action of radiant energy and especially light on a sensitive surface (as film or an optical sensor)," is a broad field, and, in the upcoming PHOTOGRAPHY NOW – THE ART OF SEEING juried exhibition, Summit Artspace seeks to explore the range of that field. Regional photographic artists who work with film and use traditional darkroom techniques, those whose images are recorded digitally and processed on a computer, and those who push the boundaries of the medium in new directions, are all invited to enter. The only exception is that instant photography cannot be accepted, due to a concurrent exhibition which focuses on that medium.
Works from traditional to experimental and from representational to abstract are equally welcome, as are images presented on paper, transparency, through projection, or in some other format. What will unify this exhibition is that each selected work will represent the intersection of personal creativity and engagement with some form of photographic technology in order to explore the art of seeing at this moment in time, whether the gaze is turned outward or inward.
Definition of photography courtesy of Merriam Webster
Eligibility: The exhibition is open to artists residing in or attending school in the following Ohio counties: Summit, Cuyahoga, Medina, Stark and Portage. Unfortunately, if you do not live in or attend school in one of these counties, we are unable to consider your work.
Deadline for Entry: Friday, May 15, 2017, by midnight.
ENTRY FEE: $15
Review submission criteria and submit photos here: http://ow.ly/YgNF30atL3v
Parking behind the building
Handicap accessible
Summit Artspace Location
140 East Market Street
Akron, Ohio 44308
Phone: 330-376-8480
Map
Mapquest Driving Directions – click here
SUMMIT ARTSPACE IS SUPPORTED BY: