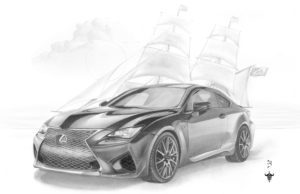 The Flagship by Aaron Burkett
THE LUCID LIFE EXPERIENCE
The Phase, state 4, Woforo Dua Pa A
The Art of Aaron Burkett
March 24 – May 13, 2017
Nine Muses Art Gallery Meeting Space
584 W. Tuscarawas Ave., Barberton, OH
Akron artist Aaron Burkett is staking his future on art that puts pencil to paper for an exhibition at Nine Muses Art Gallery.
Lucid Life Experience is the name of his show that runs until May 13 in the Nine Muses Meeting Space Gallery. Visitors will see a display of meticulously drawn portraits and images which capture the spirit of the subject, especially the endearing portrait of Dr. Carl E. Krill that Burkett created for an award and the spiritual vision of praying hands.
Burkett studied drafting at Alliance High School and then went on to study fine arts at the University of Akron. He earned a degree in computer animation and multimedia design from The Art Institute of Pittsburgh. After years of working in northeast Ohio in the graphic and web design fields for companies like The Plain Dealer and American Greetings, he decided to go back to his passion of drawing with graphite. He is intent on making his art into a successful business.
"Now I am seeking to market my talents as I continue to perfect my artistic skills. For me this is a lifetime journey I started in 2010, so I am in no rush. My greatest goal is to push myself to the peak of my creativity and see where I end up," Burkett explained.
The full title of Burkett's exhibition is Lucid Life Experience, The Phase, state 4, Woforo Dua Pa A. He has a clear view for the direction of his life—to be successful as an artist. The phase he is now in is translated to mean, "When you climb a good tree, you are given a push."
"'When you climb a good tree,' refers to the tree as a symbol of support, cooperation and encouragement. Metaphorically speaking it means that when you work for a good cause, you will get support," Burkett explained.
You can see more of Burkett's are at AaronBurkett.com.
The exhibitions are free and open to the public. Nine Muses Gallery hours are Mondays, 7 a.m.-4 p.m.; Tuesdays, Wednesdays and Fridays, 7 a.m.-8 p.m.; Thursdays, 7 a.m.-9 p.m.; Saturdays, 8 a.m.-8 p.m. Closed on Sundays. The gallery is open for Barberton Fourth Friday, which is coming up on March 24, 5-8 p.m. Nine Muses is located at 584 W. Tuscarawas Ave., Barberton.
Nine Muses is operated by Summit Artspace, the community arts center for Summit County and surrounding areas.
For information about Nine Muses Art Gallery go to summitartspace.org or call 330-376-8480. Find Nine Muses, the Art Center on Tuscarawas and Summit Artspace on Facebook. Summit Artspace is on Twitter @AkronAreaArts, Snapchat and Instagram.
Nine Muses is located at 584 Tuscarawas Avenue in Barberton, Ohio, and is operated by Summit Artspace. Click here for a map.