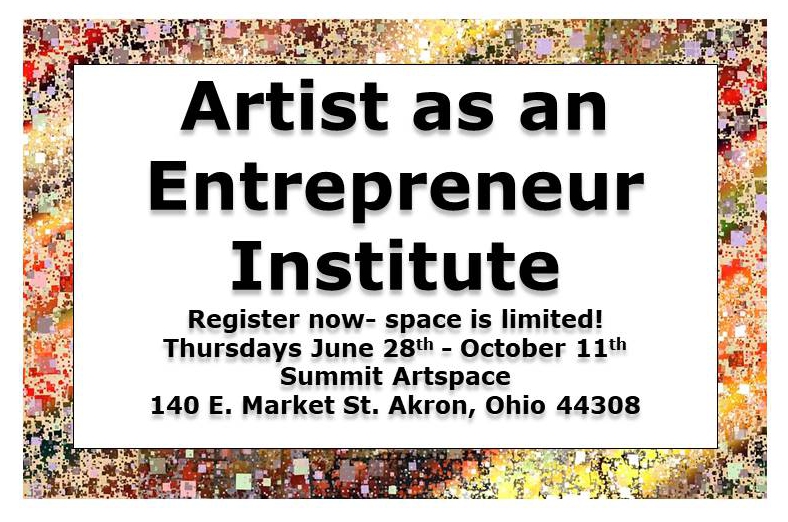 Artist as an Entrepreneur Institute
Thursdays, June 28 – October 11, 2018
6:30 – 9:30 pm
Summit Artspace on East Market
140 E. Market St., Akron
Summit Artspace Offers The Artist as an Entrepreneur Institute
Ready to focus on success for your creative business as an artist? Are you searching for advice from experts who have faced similar challenges and who can answer your questions?
Summit Artspace, with its mission to support artists, is once again bringing together local business people and artists for the popular Artist as Entrepreneur Institute (AEI). The program starts June 28 and runs through Oct. 11.
AEI is open to individuals who are interested in or are already becoming entrepreneurs in the creative arts, including but not limited to visual art, music, theater, dance and writing. Summit Artspace is partnering with the Community Partnership for Arts and Culture to sponsor AEI.
Participants will receive foundational business knowledge and hands-on training as part of the curriculum. Individuals will also have the opportunity to meet with and learn from successful creative entrepreneurs in Akron and the surrounding area. In addition to the class curriculum, participants will enjoy the benefits of a supportive peer group and the exchange of unique perspectives on artists' entrepreneurship.
Based on feedback from previous participants, this year's format features an extended schedule. Rather than offer a shorter, highly intensive course, once-weekly meetings will allow participants time to:
Process the information and find meaningful and practical application of each session's information
Develop a working business plan one step at a time
Meet existing obligations and still take impactful steps forward in their artistic career
The inclusion of five "open workshop" sessions will provide added and unique benefits. Artists will have time for one-on-one feedback and assistance with their business plans.
These sessions will provide space for participants to collaborate and share ideas, to find creative solutions to common problems, and to enjoy the camaraderie of the artists' community. Participants who may be unavailable for one session can use this time to compensate.
These "open workshops" will also provide an opportunity for additional in-depth discussion of any topics the participants may desire.
Finally, these evenings will provide flexibility in terms of customizing the experience for the participating group of artists, allowing for the potential for additional small-group activities and discussions.
Classes will meet weekly on Thursdays beginning June 28th from 6:30-9:30pm at Summit Artspace, 140 E. Market St, Akron, OH 44308. See the complete list of dates and topics below.
Classes will meet weekly on Thursdays beginning June 28th from 6:30-9:30pm at Summit Artspace, 140 E Market St, Akron, OH 44308.
The cost is $125 for the 16-week session if you register by June 28. Late registrations will be accepted until July 12 with a fee of $140.00. It includes the cost of all materials and off-site events.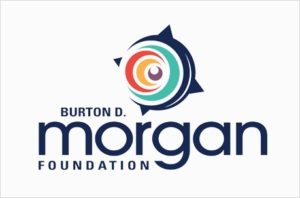 AEI is presented through the support of the Burton D. Morgan Foundation.
Please email carolyn@summitartspace.org with any questions.
SCHEDULE
JUNE 28
Understanding Your Current State
JULY 5
Open Workshop
JULY 12
Writing a Business Plan
JULY 19
Writing a Business Plan: Executive Summary, Business Description
JULY 26
Open Workshop
AUGUST 2
Writing a Business Plan: Business Description, Design & Development
AUGUST 9
Writing a Business Plan: Market Strategies
AUGUST 16
Open Workshop
AUGUST 23
Writing a Business Plan: Market Strategies
AUGUST 30
Writing a Business Plan: Financial Factors
SEPTEMBER 6
Open Workshop
SEPTEMBER 13
Writing a Business Plan: Financial Factors & Protecting Yourself
SEPTEMBER 20
Writing a Business Plan: Putting it All Together
SEPTEMBER 27
Open Workshop
OCTOBER 4
Final Work Session
OCTOBER 11
Presentation of Business Plans